How to Plan 2 Day Ladakh Trip with a Bike Rental in Ladakh?
Planning a 2-day trip to Leh, the picturesque paradise nestled in the lap of the Himalayas, is an exhilarating experience for adventure enthusiasts and nature lovers alike. With its breathtaking landscapes, serene monasteries, and thrilling biking routes, Leh offers an unforgettable escape from the mundane. It can get hard to plan a perfect bike trip if you don't know where to start and how to start. In this blog, we will provide you with a step-by-step guide to planning an incredible 2-day trip to Leh, covering the best places to stay, must-visit attractions, and bike rental in Leh.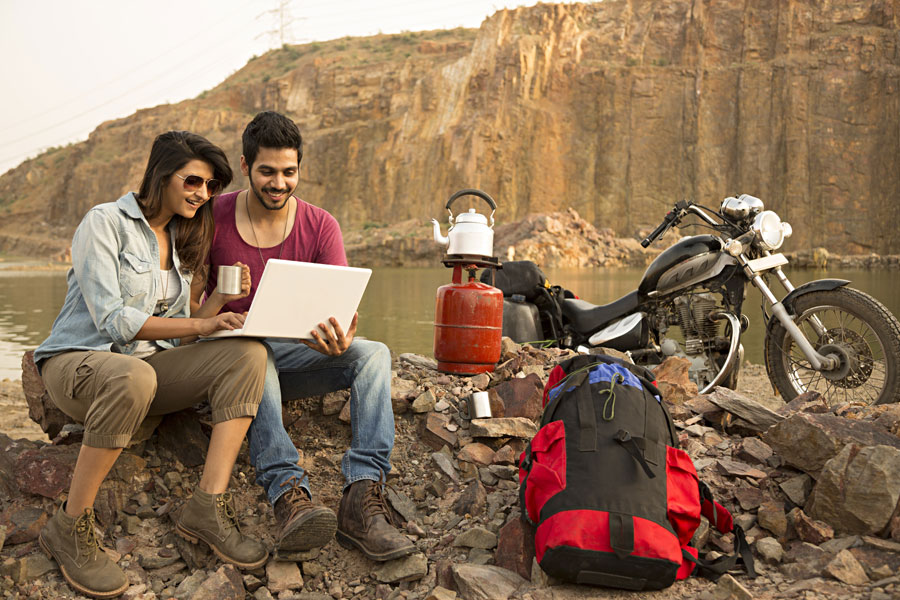 Day 1: Exploring the Enchanting Landscapes
Accommodation:
Begin your journey by checking into one of the charming guesthouses or hotels in Leh, such as The Grand Himalayas or The Zen Ladakh. These accommodations offer comfortable rooms, warm hospitality, and easy access to the city centre, ensuring a delightful stay during your trip.
Places to Visit:
Leh Palace: Start your day by visiting the iconic Leh Palace, a nine-story royal residence that offers panoramic views of the city and the majestic Stok Kangri mountain range. Immerse yourself in the rich history and architecture of this 17th-century palace.
Shanti Stupa: Head towards the serene Shanti Stupa, a white-domed Buddhist monument situated atop a hill. Take in the breathtaking views of the surrounding landscapes and enjoy the tranquil ambiance. It's an ideal spot for meditation and capturing stunning photographs.
Hall of Fame: Pay homage to the brave soldiers of the Indian Army by visiting the Hall of Fame museum. Learn about the valor and sacrifices of the Indian armed forces in the challenging terrains of Ladakh.
Leh Market: Indulge in some shopping therapy at the vibrant Leh Market, known for its traditional artifacts, Tibetan handicrafts, and exquisite Pashmina shawls. Don't forget to bargain and pick up souvenirs to commemorate your trip.
Day 2: Bike Adventure in Ladakh
Bike Rental in Ladakh:
Embark on an exhilarating biking adventure by getting a bike rental in Ladakh. There are several reputable bike rental agencies in the city, but you can choose Rentnhop to get the best Leh Ladakh bike rental service. These agencies offer a wide range of bikes, including Royal Enfield, Himalayan, and Bajaj Pulsar, to suit your preferences and riding capabilities.
Places to Visit:
Magnetic Hill: Ride your rented bike to the famous Magnetic Hill, located on the Leh-Kargil-Srinagar Highway. Experience the fascinating optical illusion where vehicles seem to defy gravity by rolling uphill without any external force. Don't forget to capture this mind-boggling phenomenon on your camera.
Pangong Lake: Take a scenic ride towards the mesmerising Pangong Lake, renowned for its ethereal beauty and changing hues. The lake, spanning across India and Tibet, offers a surreal experience that will leave you spellbound. Spend some time by the lake, basking in its tranquillity.
Nubra Valley: Explore the enchanting Nubra Valley, known for its sand dunes, Bactrian camels, and hot springs. Ride through the world's highest motorable pass, Khardung La, and revel in the breathtaking vistas of the Karakoram mountain range.
Conclusion:
A 2-day trip to Leh offers an immersive experience that combines cultural exploration, natural beauty, and thrilling adventures. From the majestic Leh Palace to the serene Shanti Stupa, and from the adrenaline-pumping Magnetic Hill to the awe-inspiring Pangong Lake and Nubra Valley, Leh has something to offer every traveller. Get a bike on rent in Leh from reliable agencies like Leh Bike Rental or Ladakh Bike Rental to make your journey even more adventurous. So, gear up, explore the enchanting landscapes of Leh, and create memories that will last a lifetime.