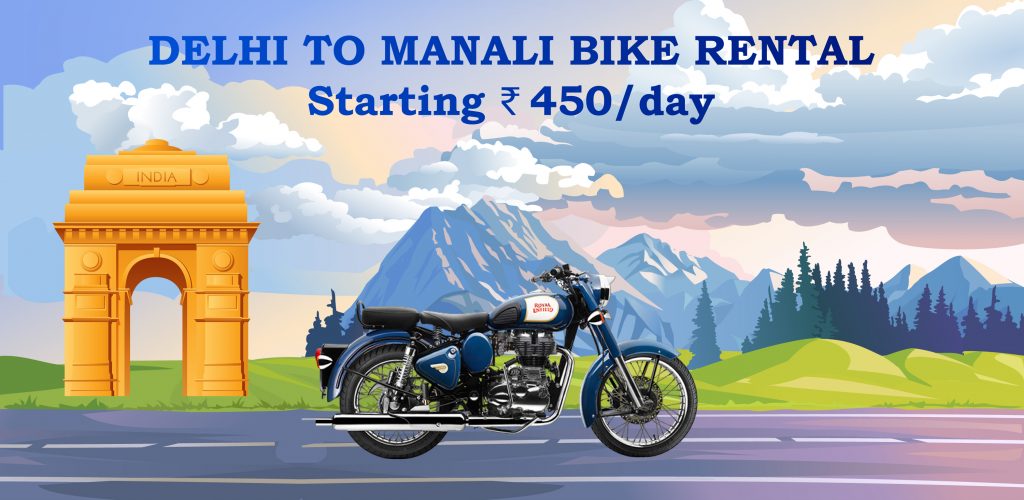 For people who are addicted to bike rides, Manali and roads leading to and from Manali is a heaven, whether they are riding from Delhi to Manali, Manali to Leh or Manali to Ladakh, the only pain for them is to rent a Bike for rides. We understood the rider's pain and we offer all types or bike on rent in Delhi for their rides from Delhi to Manali.
Every person has their own preferences for bike rental, riders might be using a commuter bike for their daily rides or they can be non-local to Delhi or Manali and want to rent a bike of their choice, but renting a bike had been a pain until Rentnhop came into market.
We offer large fleet of bikes and other two wheelers like Scooty along with a wide variety of Bikes. Our Fleet contains bikes from companies like Royal Enfield, Bajaj, TVS, Hero, Honda and many more.
Users can rent a bike from anywhere at any time to enjoy their rides that they are planning from Delhi to Manali or from Delhi to Leh, Delhi to Ladakh via Manali. We offer bikes from Delhi to Shimla and any other locations that user prefers.
Bike rental process with us is really simple and hassle, users just have to follow the below steps
Search: Users can simply visit our website rentnhop.com, and search for the bike of their choice for bike rental.
Select: Once they select the bike of their choice, they can simply select the dates from the calendar and enter their pick times and number of days that they are seeking to rent a bike.
Pick up: Once they are done with their booking, they can simply pick up their bikes from the pick up points.
Ride: Users can enjoy the rides on the choice of bikes.
More About Rentnhop
Visit : https://www.rentnhop.com/
Call: +91 9958 291 193
EMail: [email protected]